My Grandfather, Ernest Ryan Baker
A proud marine who was KIA on Iwo Jima
during Word War II

I caught the bug in January 2000. I call it the genealogy bug. The need to know more. In some cases it's something we are born with and at other times there's an event in our lives that start us on our adventure. With me it was a little of both. My maternal grandmother, Elaine, unexpectedly died in Septem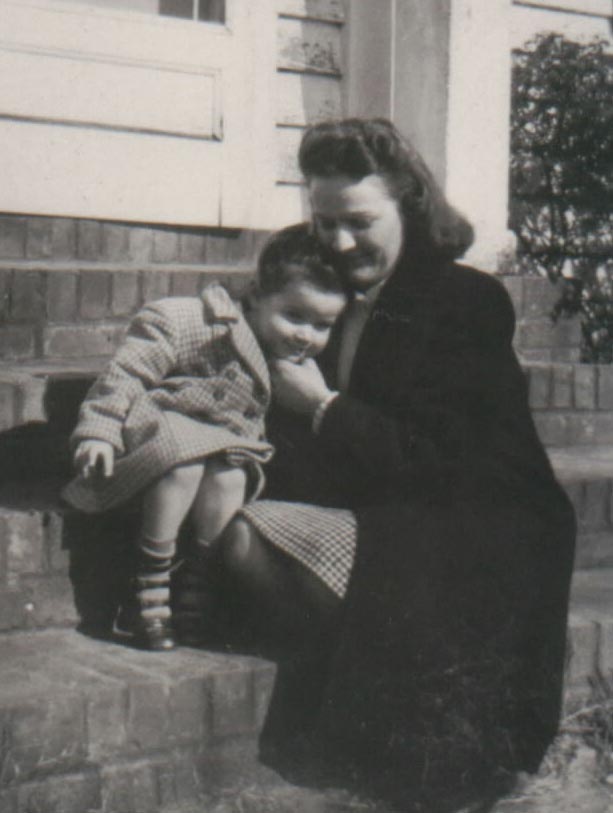 ber 1998. My step-grandfather, whom I prefer to call grandpa, spent most of 1999 sorting through her belongings and passing on her special keepsakes to family members. One of the keepsakes that fell into my hands was a stack of letters. I didn't know it at the time, but they would ignite a passion in me that would become all consuming. The letters were from my maternal grandfather who was KIA on Iwo Jima during WWII when my mother, Janice, was 4yrs old. They were sent to my grandmother while he was away fighting. At the age of 23 he volunteered for the draft and became a marine. He turned 24 the day before D-Day on Iwo Jima, February 19th, 1945, the day combat was initiated and was KIA March 12, 1945.
Growing up I remember walking by a memorial to my grandfather that my parents had in the hallway of our home. I would look at the picture and know that face was that of my grandfather; look at the map of Iwo Jima and know that was where he died; look at the medals and know those were earned for the sacrifice he made for his country, but I didn't know the man……. until now. Reading those letters brought my grandfather to life for me and for my mother who didn't know of their existence. I had so many questions after reading the letters. How did he die? What were the circumstances of his death? Who was with him when he died? What kind of man was he? What were my chances of finding those answers? How would I begin?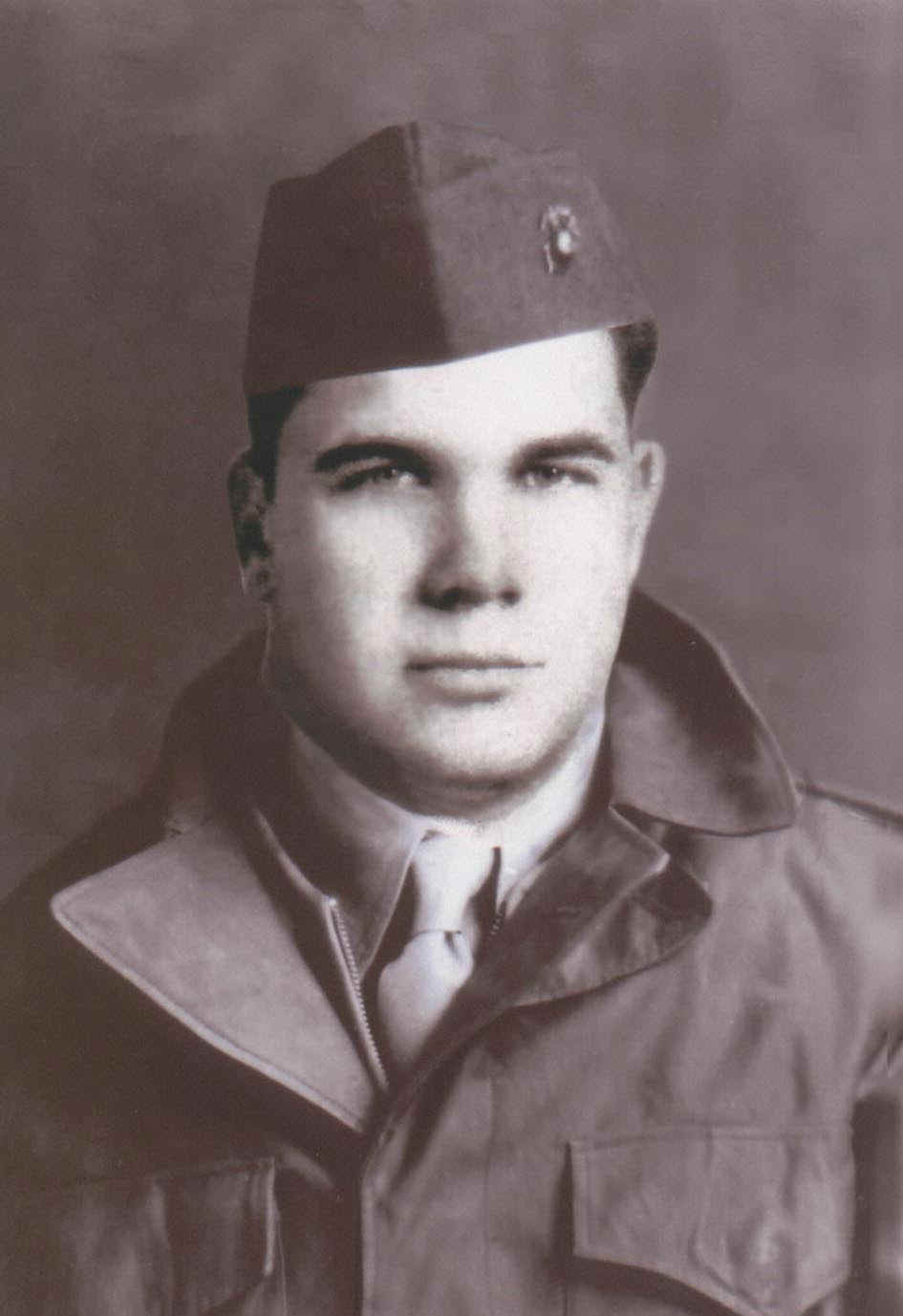 My grandfather's name is Ernest Ryan Baker, born February 18th, 1921. Luckily, his birth certificate was one of the documents bundled with the letters. I first started out wanting to learn more about the battle on Iwo Jima. I bought and read "Iwo Jima, Legacy of Valor" by Bill Ross and "Flags of our Father" by James Bradley. The internet was my next source of information. I found a website where I could download a form to request my grandfather's military records.( http://www.nara.gov/regional/mprsf180.html) After a wait of approximately 14-16 weeks, I received his records in the mail. Once I found out what division of the marines he was in, I searched online and found a 3rd Marine Division website. (www.caltrap.com) I went through Caltrap's guest book and contacted a few veterans that served on Iwo Jima. A veteran by the name of John Powers responded to my email and suggested I put inquiries into two marine publications. One was Caltrap, 3D Marine Division Assn. Inc, P.O. Box 297, Dumfries, VA 22026-0297. The other was Leatherneck, Mail Call, P.O. Box 1775, Quantico, VA 22134. Another marine by the name of George Walden forwarded me a list of names and addresses of men that were in the same company, regiment and battalion.
I wrote letters to both of the marine publications and a letter to all the men on my list. After some time, I started to get correspondence in the mail on almost a daily basis. I also got a few phone calls from veterans. Even though most of the veterans that reached out to me didn't know my grandfather personally, they were amazingly helpful in providing me with information on their journeys. The stories they shared helped me visualize what it might have been like for my grandfather. I'm sure the stories I would have heard from him would have been similar.
The veterans that have contacted me can only be described as being the best group of men I've ever had the honor to know. They are in a class of their own from a time period that seems to be forgotten, when one had integrity, honor and pride. One veteran in particular, John Murphy, an Iwo Jima veteran himself was one of the first people to reach out to me and genuinely want to help. From my inquiry in Leatherneck magazine he could tell my grandfather's journey was similar to his. He helped me construct and explain the events of my grandfather's journey from boot camp at Parris Island, South Carolina to Iwo Jima. He also put in a request on my behalf for my grandfather's "Deceased Personnel File". This is a file that is kept by the army, detailing the route his remains took from Iwo Jima to his final resting place in Florence National Cemetery in South Carolina and describes what condition the remains were in.
In November of 2000 my efforts paid off. I got a letter from a Robert Banks. He mentioned that he knew my grandfather well and described "Ernie" as being about 5'10", husky build, with black curly hair and always had a smile on his face. He added that he was a great guy that everyone liked, was the nicest person you could ever meet and was proud to have known him. After receiving the letter, I called Mr. Banks to thank him for taking the time to write me. Mr. Banks shared that when they were overseas fighting in the foxholes, they would say to each other that if anything ever happen to one of them that the other would go home and tell their family how much they loved them. He couldn't bring himself to do that after Ernie was killed. After so many years, it was now his chance to fulfill that promise. Mr. Banks even sent me a picture with my grandfather's face superimposed over his so I could see what he would have looked like in uniform.
On January 6, 2001, I got the kind of phone call that made the hair on your arms stand and your heart sink to your stomach. It took one year to get the answer to my question…. How did my grandfather die? Robert Baker introduced himself and proceeded to explain that he found my article of inquiry in Leatherneck magazine and knew my grandfather. He said he'd never met a more pleasant person and considered Ernest his best friend. He was full of life and devoted to his wife and child. He and "ER" as he called my grandfather were together from boot camp to Iwo Jima. They would call each other "Cous" since they had the same last name. To others, Robert was referred to as "little Baker" and Ernest was called, "old man Baker". Robert told of one story where they were waiting in line to get vaccinated when "ER" almost passed out and Robert had to catch him. Everything he said was right in line with what was described in my grandfather's letters. I had hit the jackpot. Should I dare ask? It just came pouring out of my mouth. "Were you with my grandfather when he was killed?" With a choked up answer he said, "Yes and that I've never quite recovered from his loss and from the terrible experience on Iwo Jima". It was obviously painful for him to relive it. He said that "ER" was gathering rocks and stacking them around his foxhole when he was hit. On Iwo they had to build up their foxholes instead of digging them due to being on a volcanic island. The ground was too hot to dig holes. As my grandfather was building up his foxhole, a mortar bounced in front of him and into his chest. They ran to him, but were unable to do anything for him. He said my grandfather was unrecognizable, and hoped we could take some comfort in knowing he didn't suffer.
There are a handful of veterans that I still correspond with on a regular basis. My girlfriends now tease me saying I would rather hang out with 70 year old men than with them. My search still goes on for more information and anyone else who may have known him. I can never thank the veterans enough for helping me attach a persona to the picture on the wall and help me to appreciate the efforts that all of them gave to protect the freedoms we enjoy today. Even though I am saddened by not being able to have known my grandfather, I have great pride in knowing that he gave his life for the comforts that I enjoy today. There could be no greater hero in my eyes.
Janay Minton
Email: d739@hotmail.com
A Tribute to the Veterans
In addendum to the chronology of events, I want to bring attention to a group of men I think need to be acknowledged. They are World War II veterans. The more I learn about WWII in researching my grandfather's steps, I can't believe there where men that actually made it back alive after enduring such a hellish war. These men encompass the true meaning of the word HERO. Many of them volunteered for the war and so many of them died for the liberties that we enjoy today. The veterans I've had the pleasure to come in contact with have been so gracious. I never thought when I talked with these men that I would be embraced in such an addicting way. They guided me, supplied me with information, gave me personal momentos from the war, shared stories, gave me support and encouraged me in my quest. Most of all they helped me attach a persona to the picture of the man I know as my grandfather, a proud marine who was killed in action on Iwo Jima during WWII.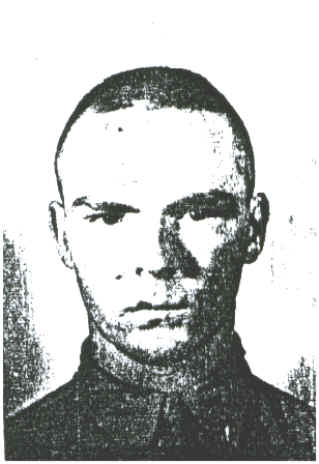 One veteran in particular has been a godsend to me. He is an amazing man in so many ways. John Murphy enlisted in the marines when he was 17 in 1944. His journey from boot camp to Iwo Jima mirrors that of my grandfather's. John's time on Iwo Jima was short. He went ashore on March 4th 1945 as part of the 34th replacement draft and then was assigned to the C/1/21 of the 3rd marine division on March 5th. On March 7th John sustained shrapnel wounds to his chest, right wrist, and right shoulder and was evacuated by air on March 8th to Guam. He still carries with him to this day a piece of that shrapnel, a constant reminder of his ordeal in his chest. None of John's wounds were permanently disabling in fact he went on to serve 45 years in law enforcement in New York. John received the Purple Heart, American Campaign Medal, Asiatic-Pacific Campaign Medal, WWII Victory Medal, the Navy Unit Citation, and the New York State Conspicuous Service Cross.
Here is a man who has witnessed first hand the horrors that war portrays. He then came home to career in law enforcement where one can be effected by or influenced in an adverse way by the negative forces seen on a daily basis. How can one who has experienced all that open his heart and helping hand to a stranger, a granddaughter of a marine KIA so many years ago? He has spoiled me with his time, knowledge, devotion, generosity, and thoughtfulness. He helped me pay tribute to my grandfather by mounting the medals I had and adding a few other things my grandfather deserved in a display I now hang proudly in my home. John also superimposed my grandfather's face onto one of his photos in uniform so I could see what my grandfather would have looked like. One of the things I treasure most from him is a poem he wrote me which I'm enclosing. I can't read it without getting emotional. These are just a few of things he's done that I hold dear to my heart.
Our correspondence started via email and we now keep in contact on a regular basis. I would one day like the opportunity to meet him in person and thank him for all he has done and tell him what his friendship means to me. If you ever consider doing a show paying tribute to WWII veterans, I would love to be part of it. They are truly in a class of their own and need to be thanked for the sacrifices, the call to duty, and the success their generation made.
John Murphy's Poem
To Janay,
It shouldn't be difficult to say THANK YOU,
For it IS such a pleasant task;
Especially to the nicest of friends,
For which a person could ask.

A friendship which started,
Due to a "Death" years ago;
The Death of a Grandfather,
A loving Granddaughter didn't know.

A simple "stack of Letters" made her ask,
Who was Grandpa? What was he really like?
A Grandpa Killed in Defense of his Country,
While HER Mother was only a "tyke".

Grandpa's name was Ernest,
Janay, the Granddaughter's name;
She sent out a Plea for information,
It wasn't long before answers came.

Fellow Marines that knew "Grandpa",
Told stories about happier days;
They brought "Grandpa" to life again,
In so many, many ways.

On behalf of "Grandpa's Buddies",
We cannot THANK you enough;
You have made OUR "service" worthwhile,
By your interest, your caring, your love.

We also thank your family members,
Who assisted and encouraged your "quest";
You have been "Blessed" with Natural and
"Step-parents and Grandparents";
That can only be described as "THE BEST".

If anyone has ever "lived" our Motto
"SEMPER FIDELIS",
JANAY MINTON has done it, like no other;
She has overcome the limit of time,
With the help of that little "tyke", Her MOTHER.

If you ask, "why did Ernest have to die?",
Why HIS life, he had to give?
It was so wonderful young People, like Janay,
Would have the opportunity to live.

THANK YOU, JANAY

John Murphy
Letter From Harry Thetford
Lieutenant Commander, United States Navy
I would like to share a story that I hope you will find interesting for a possible segment on your show. In light in the recent surge of patriotism and the 60th anniversary of the start of World War II, I feel it is fitting we pay tribute to our Veterans.
Over a year ago I began to research the World War II service of my cousin. Walter Ray Thetford served in the United States Marines and was killed while fighting on the island of Iwo Jima. The family knew very little of my cousin's service history, so I started from scratch.
One of the first things I did was to post messages in Marine Corps magazines and websites. I was overwhelmed with the responses. World War II Veterans from all over the country replied with bits of information. One email I received was from a Medal of Honor recipient. He earned our countries highest honor by single-handedly eliminating several highly fortified Japanese positions. Another particularly touching response was from a Veteran who is now blind. He mentioned that his brother, a World War II Navy Veteran was writing the response for him.
Through these responses and historical research, I was able to piece together my cousin's service and document it for family history. The more I learned about the Pacific War, in particularly the battle for Iwo Jima, the more my respect for our Veterans grew. These fine men, young men at the time, fought their way across the Pacific under horrific conditions and helped to make our country what it is today.
One theme was common in each response I heard. Each Veteran had the attitude that what they did personally was "no big deal" and that they "were only doing their job". None expected or desired recognition for their deeds. However each man wanted to ensure that the accomplishment of his comrades who paid the ultimate sacrifice is not forgotten.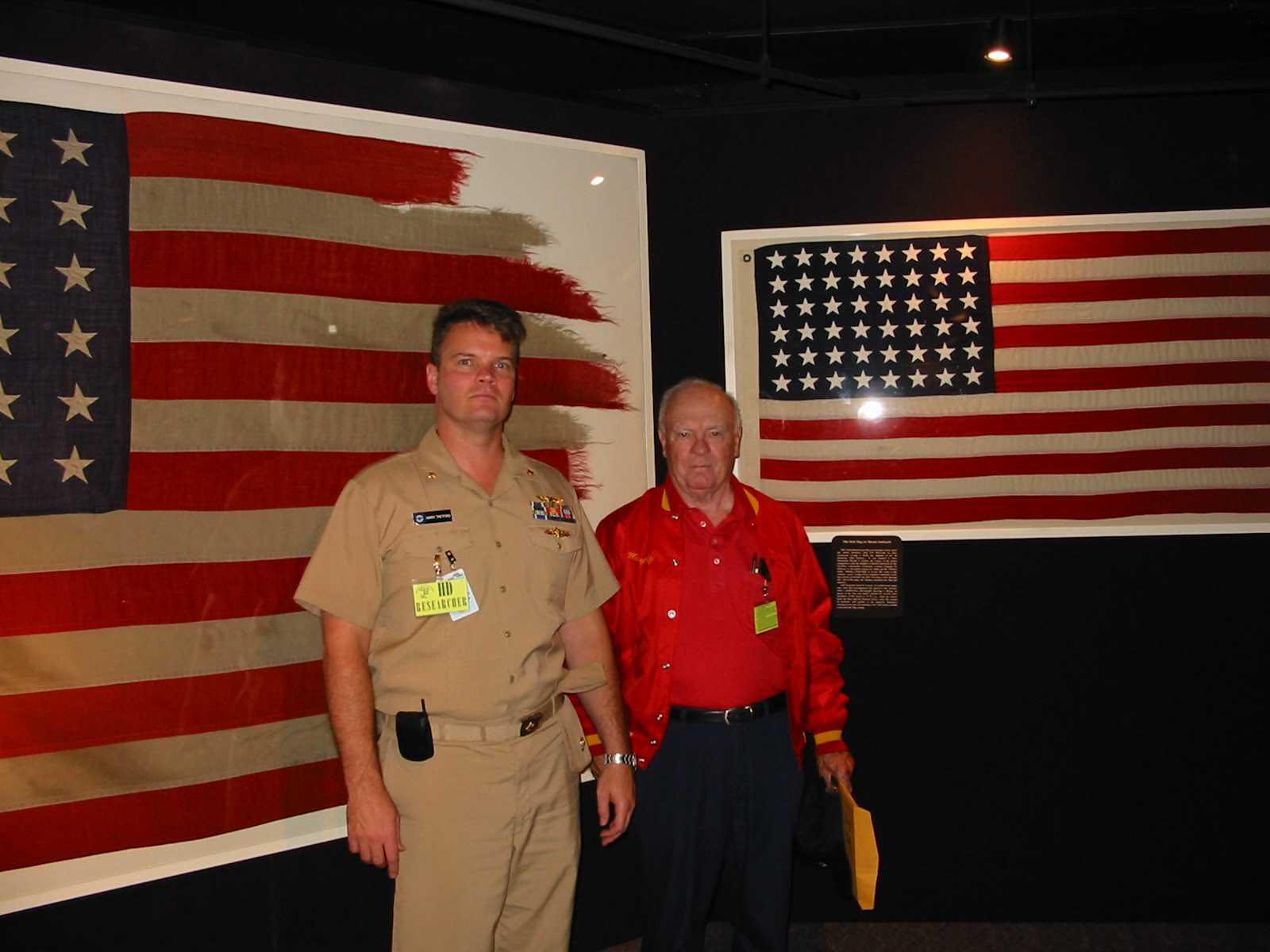 However, I write this letter to highlight the contributions of one Veteran in particular. Mr. John Murphy joined the Marines in 1944 and served in the same Company on Iwo Jima as my cousin. After fighting on Iwo Jima for a few days, a Japanese rocket or mortar seriously wounded John and he was evacuated from the island. By the time John recovered, Japan had surrendered and the war was over.
As if fighting for his country was not enough, when John returned to civilian life he decided to do something really dangerous and joined the New York City Police Department. John went on to serve his county with 45 years in Law Enforcement.
John was one of the first Veterans to respond to my postings. Over the past year we have become good friends and his mentoring and guidance has proven to be invaluable. He has spent countless hours assisting others in researching the military service of relatives. He has graciously given his time and money to ensure the memory of fallen Veterans live on.
I had the privilege of meeting this man face to face last year. John Murphy is the epitome of what we now call the "Greatest Generation". I can't tell you what an honor it was to shake his hand and thank him for his service to our country and for his help in my research.
What our Veterans achieved in World War II was "a big deal". The success our country enjoys today was purchased with their blood, sweat and tears. Unfortunately our Veterans are aging, and everyday we lose more. I feel it would be highly appropriate to honor our Veterans and their service in a visible forum such as your show. Such a show would help your viewers in two ways:
· Educate and inform them about the tremendous service and sacrifice of our WWII Veterans.
· Show viewers how they can research the military service of their relatives
I would be happy to provide additional information if required. Thank you for your consideration.
Click here for a link to Fernando Alatorre's web page
Harry Thetford, Lieutenant Commander, United States Navy
Email: lmthtt@aol.com